Dear Karen,
This will probably be the most overdue thank you letter ever, as I met my husband through your agency 11 years ago!
I wonder if you remember me. I am Tricia Kelly (now Bird), the Irish woman you met on holiday in Barbados Easter 2003. I was on my own and you were with your family. Having told you my story, over many relaxing days on a sun drenched beach, you suggested you'd have no problem finding a match for me through your introduction agency.
Well… you were right. You did. After about 6 months of joining, I met Simon. It was love at first sight for us both when we met in Feb. 2004. In December 2006, we had a beautiful baby together. He is called Jamie and is 8 years old now. ( By then I was 45 years old!) We moved from London to a small village on the edge of Dartmoor in Devon in 2007 and relocated our family (now including 3 children!) and finally, when we found the time, we were married in our village church on 3rd May 2008.
It is the happiest of marriages and we have a very close family life. None of this would have happened without you Karen and your wonderful agency.
We feel very blessed.
So thank you.
I am happy to send a letter by post if you would find that helpful but Simon and I were just talking about you and so I felt prompted to contact you straight away. I attach a photo of us the year we met:))
With Love
Tricia and Simon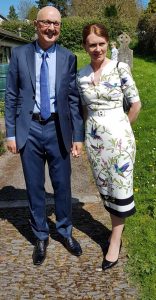 Dear Karen
Simon and I thought you might like a photograph of us renewing our wedding vows this year on our 10th Wedding Anniversary.
We are still blissfully happy thanks' to Sara Eden.
With love
Tricia and Simon x